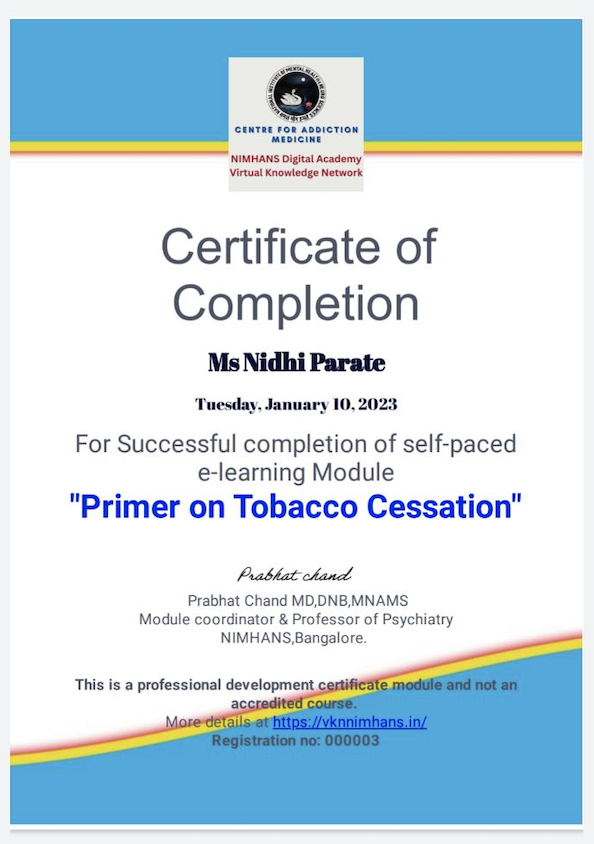 Why the self-learning module?
In alignment with VKN NIMHANS's mission to democratize knowledge in addiction and mental health, the necessity for a self-learning module on tobacco cessation is clear. With tobacco's global prevalence and its detrimental impact on physical and mental well-being, there's a pressing need for comprehensive educational resources. Our module is designed to fill this void, catering to healthcare professionals, counsellors, and individuals looking to acquire expertise in this vital area and support others in quitting tobacco. Organized into three lessons, each comprising three to four topics, it offers authentic knowledge, evidence-based strategies, and interactive elements. This self-learning module ensures accessibility and scalability, perfectly aligning with VKN NIMHANS's mission.
How do I enroll?
1. Click on Take the Course
On the top or right side of the page (mobile or Laptop), please click "Take the course", and a pop-up will open requesting you to pay the amount. Please use the correct email id (the same email id will be used to access the course as well as all communications) and mobile number while doing payment.
2. Pay the fees and share the receipt
Once you complete the payment (fees of 354 INR), Please share the receipt of payment (screenshot of the receipt to vkn@vknnimhans.in)
3. Access the module
By the next 24 hours, you will receive an email from "Centre for Addiction Medicine VKN NIMHANS Digital Academy " with your username and set password. You can set the password and keep both the username and password carefully. Please use the same to Log In to the Certificate Module.
WHY SHOULD I ENROL?
Objectives
The objectives of this certificate module are to recognize the public health problem of tobacco use disorders and outline the principles of tobacco cessation. After completing the module, you should be able to recognize the public health importance of tobacco use and associated policy and summarize the screening and brief intervention for tobacco cessation.
For whom
This basic programme is useful to any knowledge seeker. "Primer on Tobacco cessation" will be helpful to all healthcare providers, including dentists, doctors, nurses, counselors, educators etc.This will be especially helpful for health providers working in tobacco control, TB elimination, mental health, and Non-communicable disease control program.
Design
This certificate module features three lessons, each comprising three to four topics. Topics include a "written description", a "didactic presentation", a recorded video and short reading materials". Each lesson concludes with a quiz . Although you can see the topics of any lesson at any time to take the next quiz/assignment, you need to clear the previous quiz/assignment successfully (>80%). A minimum score of 80% is required to pass the Quiz/Assignment. Two attempts are allowed to complete the quiz (The system will record and evaluate only two tries for scoring purposes).
Duration
You have 30 days of access from registration. On average, this module will take between 5 and 6 hours of dedicated time to complete.  Please keep two hours per week so that you can complete this certificate module.
Certificate of Completion
Adhere to a structured learning approach by completing each lesson and associated topic before taking the accompanying quiz. A minimum score of 80% is required to pass the Quiz/Assignment. Two attempts are allowed to complete the quiz. To be marked correct, one must select ALL of the correct answers (for question with multiple correct answers).
Fee contribution
Your fees (non-refundable) contribute to maintaining our state-of-the-art Edutech platform, which runs on a secure and efficient cloud-based system. Our back-end server is optimized for speed and capacity, ensuring your data is safe and secure. Our commitment to privacy is unwavering.
Contributors of this Module
This module is a product of the mission of democratizing knowledge by VKN Centre for Addiction Medicine and NIMHANS Digital Academy. The experts who have contributed their knowledge and expertise are from the in-house team of the Centre for Addiction Medicine at NIMHANS. Their profiles are as follows: Dr. Anoop, MD Psychiatry; Dr. Prakrithi, MD Psychiatry, PDF Addiction Medicine; Dr. Darshan, MD Psychiatry, PDF Addiction Medicine; Dr. Nandhini, MD Psychiatry, PDF Addiction Medicine; Dr. Mohita, MD Psychiatry, PDF Addiction Medicine; Ms. Shikha, MPhil Clinical Psychology; and Ms. Ashwathi, MPhil Clinical Psychology. 
Ms Sanchitha has been helping us to make this module easily accessible to all the participants. She has been working hard so that all the queries are responded as early as possible. We are grateful to her.
We extend our heartfelt gratitude to all these contributors who generously provided their time and expertise pro bono, making this initiative possible. Furthermore, we would like to acknowledge the significant support from Bajaj Electricals through a CSR grant, which allowed us to build the edutech platform. This support has enabled us to offer the course at a nominal fee, making it accessible to a wider audience, with a cost of less than 5 USD.
Dr. Prabhat Chand is the coordinator for this e-learning module, guiding the entire initiative. He can be reached at prabhat@vknnimhans.in
Dr. Pratima Murthy, Director NIMHANS, is the chief mentor and inspiring force behind this module, driving its vision and impact.
You can find out the profile of all the teams here.
| | | |
| --- | --- | --- |
| Enrolled | Engaged | Achievers of Certificate |
| 902+ | 716+ | 227 |
 22nd January 23 to 8th Sept 23
You ask, we answer.
Who are the Potential learners? : "Primer on Tobacco cessation" will be helpful to all healthcare providers, including doctors, nurses, counsellors, educators and any knowledge seeker irrespective of their work setting.This is a basic level professional development programme.
What is the status of recognition?: "This is a professional development programme, certification module and NOT an accredited Course."
When do i get the Certificate of Completion?:One needs to go to the next Lesson only after finishing the previous lesson/ topic. At the end of each lesson, there is an assignment in the form of a Quiz (for lessons 1 and 2) and a Short essay (for lesson 3). The cutoff score of each quiz/assignment is  >80% of the total score. One can avail of two attempts to complete (The system will record and evaluate only two tries for scoring purposes).
On successful completion of all the lessons and quizzes 1,2 and short essay assignment 3, (score >80%) you are eligible for an "e-Certificate of Completion" . You will receive an email after successful completion and evaluation to download the certificate.
How much does this certificate module cost? : The fee for this module is 354 INR (including 18% GST). This amount is payable to NIMHANS. You pay for secured software, Edutech, server etc. No free software or digital tool (including email, server, Edutech etc.) has been used for this.
What next after successful completion
Once you complete this "Primer on Tobacco Cessation"., you may find it useful to join the accredited Comprehensive Tobacco Cessation Certificate Course ECHO (includes weekly live sessions and case discussions with NIMHANS CAM ECHO specialists) . This includes real-life case discussions during the weekly live tele-ECHOs. You can express your interest or subscribe here.
At this point, this Tobacco Comprehensive Tobacco Cessation course as well as this module is supported by a CSR grant from Bajaj Foundations (till December 2023)
How to Connect for any queries? In case of any queries, please drop an email to vkn@vknnimhans.in.
It will take around 2-4 days to get back to you by email, depending on the nature of the queries. In view of security and privacy, we do not use any social media or free email domains.
You can find the outline of the lessons and topics here.  
Lesson 1: Tobacco: A public health problem
Learning Objectives
Describe the Burden of Tobacco as a public health problem in India
Discuss various frameworks and legislations in tobacco control
Explore the addictive property of tobacco and its mechanism in the brain
Quiz 1:Objective
Lesson 2: Evaluation and Intervention
Learning Objectives
Define components of good communication skills in the assessment
Explore the steps to find out the severity of tobacco use
Identify various counselling techniques that can assist in decreasing or stopping tobacco use
Examine various Nicotine Replacement Therapies
  Quiz 2: Objective
Lesson 3: Extended Interventions
Learning Objectives
Define motivation and find out the various stages 
Explore the barriers and facilitators to change
Describe the Relapse process and its management
Assignment Essay type
Please log in to join the chat