Get Started
This course is currently closed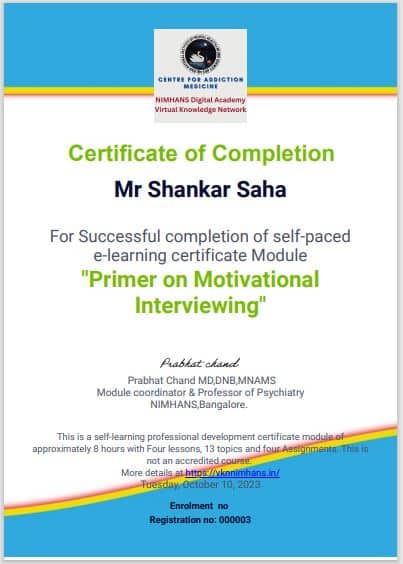 ---
"We strongly recommend taking a moment to carefully review this page prior to diving into the eLearning module. By scrolling to the end, you'll find a detailed list of the topics and lessons awaiting you"

Module Developer Team
Why the self-learning module?
In alignment with VKN NIMHANS Centre for Addiction Medicine's mission to democratize addiction and mental health knowledge, the need for a self-learning module on motivational interviewing is clear. Motivational Interviewing is a robust and evidence-based therapeutic approach that empowers individuals with SUD to explore their ambivalence about change and move towards recovery. By mastering this technique, healthcare providers (doctors, nurses, counsellors, educators, etc.) can enhance their ability to engage and motivate patients, ultimately improving treatment outcomes. This module equips them with the skills to effectively communicate with empathy, compassion, and understanding, fostering a collaborative and patient-centred approach to addiction treatment.
Why should

I enrol

Objectives

Upon completing the Primer on Motivational Interviewing certificate module, participants will be able to:
Explain the stages of motivation change.
Discuss the fundamental principles of Motivational Interviewing.
Identify the Spirit of MI, such as Partnership, Acceptance, Compassion and Evocation.
Demonstrate Motivational Interviewing skills, such as open-ended questioning, reflective listening, and affirmations.
Relate the ways to reinforce and strengthen Change talk.
Develop a change plan as per the Stages of Motivation.
How do

I Enroll?
Click on Take the Course
On the top or right side of the page (mobile or Laptop), please click "Take the course", and a pop-up will open requesting you to pay the amount. Please use the correct email ID (the same email ID will be used to access the course and all communications) and mobile number while making payment.
2. Pay the fees and share the receipt
Once you complete the payment (fees of 708 (including GST) INR) to NIMHANS, Please share the receipt of payment (screenshot of the receipt to vkn@vknnimhans.in)
3. Access the module
By the next 24 hours, you will receive an email from "Centre for Addiction Medicine VKN NIMHANS Digital Academy" with your username and set password. You can set the password and keep both the username and password carefully. Please use the same to Log In to the Certificate Module.
FEE CONTRIBUTION
The fee for this module is 708 INR (including 18% GST). This amount is payable to NIMHANS. You pay for secured software, Edutech, server, personalized LMS, WordPress, etc. No free software or digital tool (including email, server, Edutech, etc.) has been used. Your fees (non-refundable) contribute to maintaining our state-of-the-art Edutech platform, which runs on a secure and efficient cloud-based system. Our back-end server is optimized for speed and capacity, ensuring your data is safe and secure. Our commitment to privacy is unwavering.
Should you encounter any challenges in covering the course fees to NIMHANS, we encourage you to reach out via email at vkn@vknnimhans.in to explore possible solutions. Fee exemptions may be available for individuals employed in the government or not-for-profit sectors.
FOR WHOM
"Primer on Motivational Interviewing" will be helpful to all healthcare providers, including dentists, doctors, nurses, counsellors, educators, and primarily those involved in care for substance use. Any knowledge seeker can also enrol into this and learn by his or her own pace.
How to Effortlessly Move Through This Module
DESIGN
This certificate module features Four lessons, each comprising three to four Topics. Topics include a "written description", a "didactic presentation", and a "recorded video". The module concludes with a quiz after each lesson. Please finish the "Quiz" to go to the next lesson. A minimum score of 80% is required to progress to the next lesson. Two attempts are allowed to complete the quiz. Please proceed "sequentially" and "Mark complete at the end of each Topic."
DURATION
You have 60 days of access from registration. On average, this module will take between 6 and 8 hours of dedicated time to complete. Please keep two hours per week to complete this certificate module.
CERTIFICATE OF COMPLETION
A score of 80% or above in each Quiz and Assignment is must for the accredited e-certificate. Adhere to a structured learning approach by completing each lesson and associated topic before taking the accompanying quiz. A minimum score of 80% is required to progress to the next lesson. Two attempts are allowed to complete the quiz. To be marked correct, one must select ALL of the correct answers (for questions with multiple correct answers).
Contributors of this Module
This module is a product of the mission of democratizing knowledge by VKN, Centre for Addiction Medicine and NIMHANS Digital Academy. The experts who have contributed their knowledge and expertise are from the current and past in-house staff and faculty at the Centre for Addiction Medicine at NIMHANS. The names are mentioned in the individual topics and contents. We extend our heartfelt gratitude to all these contributors who generously provided their time and expertise pro bono, making this initiative possible.
You ask, we answer.
What is the status of recognition?: "This is a professional development programme, certification module and NOT an accredited Course."
When do I get the Certificate of Completion?: One must go to the next lesson only after finishing the previous lesson/ topic. At the end of each lesson, there is an assignment in the form of a Quiz (for lessons 1,2 and 3) and a Short essay (for lesson 4). The cutoff score of each quiz/assignment is  >80% of the total score. One can avail of two attempts to complete.
On successful completion of all the lessons and quizzes 1,2,3 and short essay assignment 4 (score >80%), you are eligible for an "e-Certificate of Completion." After successful completion and evaluation, you will receive an email to download the certificate.
What next after successful completion?
Once you complete this "Primer on Motivational Interviewing", you may find joining the "Certificate Course on Motivational Interviewing ECHO" helpful. This includes real-life case discussions during the weekly live tele-ECHOs. You can express your interest or subscribe here. The details of this course will be coming up on our website, nimhansecho.in
How to Connect for any queries? If you have any queries, please send an email to vkn@vknnimhans.in. It will take around 2-4 days to get back to you by email, depending on the nature of the queries. Because of security and privacy, we do not use any social media or free email domains.
Please log in to join the chat